Chrome//Knuckles
A downloadable Cyberpunk RPG
Get a physical copy at shop.clindrocubico.com

In the imminent future, the mega corp Yashinoki, seeing that Reef City had potential for their evil purposes, used all its available resources to rig the elections and have its former CEO, Akuma Salinas become the new mayor of Reef City.

When Akuma found himself with so much power, he betrays Yashinoki and takes absolute control of the city, legally and financially dismantling the mega corp. The power of Akuma Salinas reached so far that even the underworld was threatened by it, that even they are under his command.
Misery, hunger and crime reign in the once prosperous Reef City.

No one has dared to try to overthrow him ...
Until now.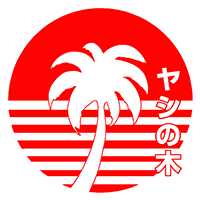 Yashinoki Corp. logo.
Download
Click download now to get access to the following files:
Chrome Knuckles β 1.0.pdf
5 MB
Chrome Knuckles β 1.0 Printer Friendly.pdf
230 kB
Chrome Knuckles Character Sheets.pdf
2 MB
Chrome Knuckles β 1.0 Printer Friendly SPA.pdf
189 kB